After receiving a nomination for the Peace Corps in November 2012 I started this blog in hopes of having somewhere to collect my thoughts while away. With an estimated departure date of August 2013 I thought it would be a nice idea to get used to the blogging experience while I wait. Since November I have posted miscellaneous posts that have been somewhat incomplete and unorganized. Now that I have graduated college and I no longer have 10+ chapters of textbooks to read during the week or disappointingly have to spend my entire weekend writing research papers in the library, I can finally devote some time to this lovely place.
I decided to do a little spring cleaning and give
A Girl Called Remember
complete makeover. I am excited to start from scratch and pour my heart into this experience.
To mark this new journey I have decided to participate in a lovely springtime swap. Back in December I stumbled upon an ornament exchange hosted by a really sweet girl named Dawn. Her blog,
Candidly Clyde
, is a really great read. The ornament exchange was a great experience - I exchanged with a girl in Trinidad. When Dawn invited me to participate in her Mayday Springtime Swap I didn't even have to think twice! Click below to read about it and join in for some fun.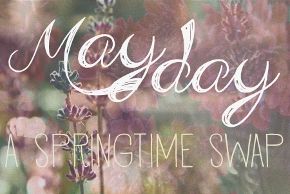 \